Customizable Menu Bar
You can customize InstaCal to fit your needs, with the ability to show a variety of different menu bar styles and color schemes.
Always Available
Make the date in your Mac's menu bar more useful by replacing it with InstaCal. Now, access your calendar from anywhere simply by clicking the date in the Menu Bar.
Multi-Account Support
Support for multiple accounts types including direct integration with Google, Office 365, Outlook.com, and your local Apple Calendars.
Manage Your Reminders
View and edit your existing reminders, or add new ones including location and time-based alerts.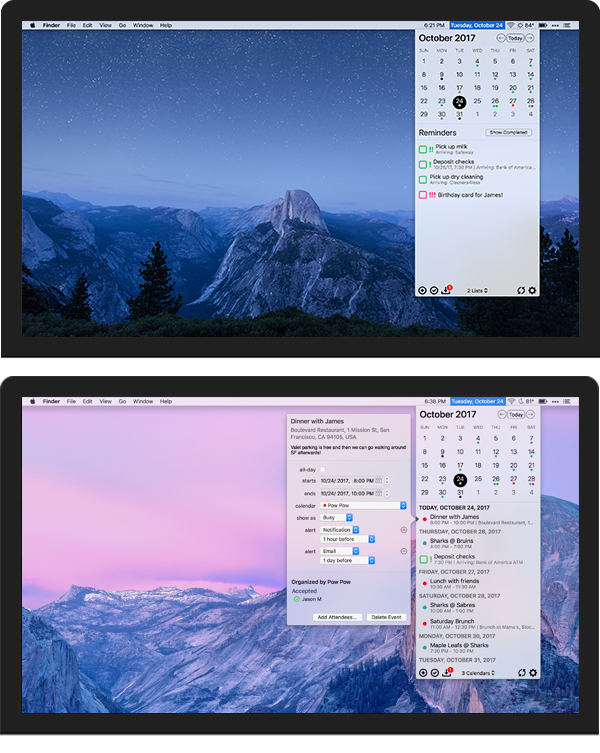 Run as a Menu Bar or Dock App
Display the calendar right in your menu bar, or as a standard app your dock.
High Sierra and Touch Bar Ready
InstaCal makes use of deep integration with macOS including Touch Bar support and global customizable keyboard shortcuts.
Always Up-to-Date
InstaCal automatically updates in the background ensuring your calendar and reminder lists stay up to date.
Detailed Notification Control
Create, edit and view notifications for calendar events and reminders. These actionable notifications allow you to respond to invites and view upcoming events and reminders. You can even disable system notifications on a per-account and per-type basis.
Personalize to fit your style
InstaCal includes support for customizable color schemes to fit your style.